Adobe Connect Desktop Application
Adobe released a stand-alone Adobe Connect application for desktop (Mac/PC) that replaces the old add-in, and is compatible with Adobe Connect 9 and later versions.
Install the Adobe Connect application
Install the Adobe Connect application (and other updates) from the Downloads and Updates page.
Adobe Connect meeting applications are backwards compatible with earlier versions of Adobe Connect. Please note that although there is currently no application for Linux, users on Linux (Ubuntu, Red Hat and OpenSUSE) can still attend, host, or present in meetings in the browser.
Installation of the Adobe Connect application does not require administrative privileges. The stand-alone installer installs the application inside a custom directory structure as opposed to the system directory structure.
Finding the Adobe Connect application
Windows
When you install the application, it creates a desktop shortcut.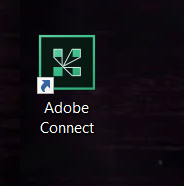 If you cannot find the desktop shortcut, you can launch the application from the following installation path:
On Windows, the folder is %appdata%\Adobe\Connect. For example, on Windows 10 the default installation path is C:\Users\[username]\AppData\Roaming\Adobe\Connect.
Alternatively, do a search for "Adobe" and look for the Adobe Connect Desktop app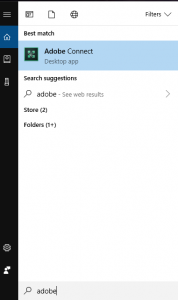 Mac
On Mac, the folder is /Applications/Adobe Connect/ directory for admin users and <HOME>/Applications/Adobe Connect/ for non-admin users.

Join A Meeting Using The Desktop Application
Once you launch the Desktop Application, you should be able to enter a meeting, seminar, recording or content URL.
Example: to join http://connect.johnshopkins.edu/mymeeting, enter the URL and Continue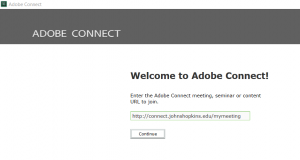 Notes
Known Issues