Audio Conference Options
Adobe Connect allows you to integrate your phone with a meeting room. The general steps to setup and use audio conferencing within Adobe Connect are as follows.
Phone Prefixes
All phone numbers must now be prefixed 9-, whether toll free or local (e.g., 9410xxx or 91800)
Step 1. Set up an Audio Provider
1. Click on the My Profile link at the top right of the screen, and select My Audio Providers.

2. Next, click on the New Provider button.

3. Enter Provider Information
Enter a Provider Name for this audio provider.
For the Status, select the Enabled option. (If disabled, all meetings using this audio provider will be unavailable).
For  the Use Backup SIP, select False.
For Dial-In Numbers, please enter a list of numbers. This list is only for descriptive purposes, and is shown in the meeting description.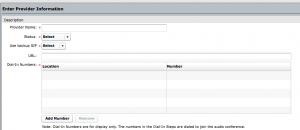 4. Under Dial-In Steps:
These are the steps which will be followed in order for Adobe Connect to dial into the desired audio conference.
The first step must be a Conference Number, and the number entered should be the number of the phone/audio conference which will be used.
Note: All numbers must now be prefixed with a "9". Only local and toll-free numbers may be used; no long-distance numbers are allowed.
Optionally, you may add DTMF (Dial-Tone Multi-Frequency) steps to be executed after the conference number is dialed. A DTMF step allows you to define such things as an access code, which may be required in order to join the conference.
Using a Delay step provides an opportunity to pause between or after one or more other steps. As an example, after dialing a conference number, you may need to wait a few seconds until the remote phone is ready to accept an access code. Please note: delay values are entered in milliseconds; thus, a value of 5000 would equate to 5 seconds.
In this example, Adobe Connect would dial into the number 12345, wait 2 seconds after connecting, and then send an access code of 1234567.

Example for ATT Conference Line (1888-651-5908), with participant code (12345678#)
Under Dial-In Steps:
| | Action | Key/Number |
| --- | --- | --- |
| 1 | Conference Number | 91888-651-5908 |
| 2 | Delay (ms) |  10000 |
| 3 | DTMF | 12345678# |
Note:
we recommend Adobe Connect calls in as a "participant"
all conference numbers must be prefixed 9- whether local or toll free

Please note: If you are using a local call (e.g. 410-xxx-xxxx), there is currently a limit of 3 to 5 simultaneous local calls. Thus, if 5 other meeting rooms are already actively connected to local numbers, you will be unable to complete the phone call.
5. Test Dial-In Steps
Click on the Test Dial-In Steps button. You should hear it connect to the conference line and provide the participant code.  When done, click on Cancel to stop.
6. Save the new Audio Provider
When you have finished entering all of the information for this audio provider, click on the Save button.
Step 2. Set  up an Audio Profile
1. Click on the My Audio Profiles link at the top of the screen.
2. Next click on the New Profile button.

3. Select the Audio Provider that you have created above, and enter a name for the new audio profile.

4. When you are finished, please click on the Save button.
Step 3. Add Audio Conference to Meeting
1. Create your meeting room (or use an existing meeting)
2. Under Audio Conference Settings, choose the option 'Include this audio conference with this meeting' AND select the desired Audio Profile you created above: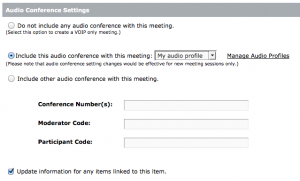 Audio Profiles
You can now easily get to your Audio Profiles by the Manage Audio Profiles link.
Using Meeting Audio in your Meeting
Start Audio Conference
As of Adobe Connect 9.1, if your meeting room has an Audio Conference configured, then Adobe Connect will prompt the Meeting Host to Start the Audio Conference when they enter the meeting.

You may also manually start the Meeting Audio:
First, select the "Start Meeting Audio…" option in the Audio menu: 


Then, in the dialog box that comes up, please select the desired option(s).  At a minimum, in order to join the phone conference and have the audio be present in a recording (of the meeting room), the "Using Phone" option must be checked.   

In order for participants in the meeting room to be able to hear the telephone audio, or for audio from meeting room participants to be audible to those on the telephone, the "Start broadcasting telephony audio" option should also be selected. 

The options shown may be adjusted later via the Audio menu (which will show additional and different choices once audio has been "started").  

When ready, click on the "Start" button. 


Stop Meeting Audio in your Meeting
Once your meeting is over, please remember to disconnect from the audio conference via the "Stop Meeting Audio" option in the Audio menu: 


Known Issue
There is currently a known issue where stopping the Meeting Audio may not properly disconnect Adobe Connect from the conference line.
Please make sure the Conference leader ends the conference line.