Selecting Meeting Room Access
Adobe Connect allows you to filter or select the people that have access to your Meeting Room. There are three different ways to allow access to the Meeting Room:                                       
Note: For all types of access, anyone entering the room will receive a notification about the meeting being recorded. Simply click OK to enter the room.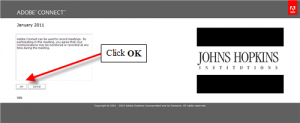 Registered Users Only
The first access option is Only registered users may enter the room (guest access is blocked). 

This is the most strict setting, and only users with a JHED ID and Password have access to the meeting room. 

When a participant attempts to access the room, their screen will look like this:
Registered Users and Accepted Guests
The second access option is Only registered users and accepted guests may enter the room. 

This setting allows users with a JHED ID and Password to enter the room. Additionally, you (the host) will be able to accept or reject guests as they request access to the room. 

When a participant attempts to access the room, their screen will look like this:
As the host, you will be notified in the meeting room of guests that are trying to join. You can accept or decline the individual guest, as well as all future guest.
If the Host accepts the guest, they will enter the room. However, if the Host denies a guest, the guest will see the following message: 

"Your request to enter has been declined."
 No Restrictions
The third option, Anyone who has the URL for the meeting can enter the room,  does not have access restrictions. 

Anyone with the URL can enter the room. As a host, you will not have to approve or deny access to the room.You can, however, remove guests from the room at any time. 

When a participant attempts to access the room, their screen will look like this:
 Using a Passcode
An additional feature to all access options is the use of a Passcode. Essentially, depending on the access set, the participant will also have to enter the Passcode in order to enter the room. This option provides an extra measure of security. 

When a participant attempts to access the room, their screen will look like this: