The Meeting Connection Test Does Not Properly Detect the Desktop Application is Installed
Adobe released a stand-alone Adobe Connect application for desktop (Mac/PC) that replaces the old add-in, and is compatible with Adobe Connect 9 and later versions.
At this time, the Meeting Connection Test on the JHU Adobe Connect Server (connect.johnshopkins.edu) will fail step "4. Adobe Connect Add-in Test". It does not properly detect the Desktop Application is installed. Even if you do install the Desktop Application, this part of the test will continue to fail if you re-run it.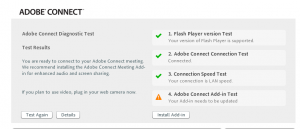 You can ignore this part of the Connection Test if you have installed the Desktop application.
More information about the Adobe Connect Desktop Application.