What's new in Adobe Connect 9.8
Changes to the Adobe Connect Central Homepage
My Meetings tab shows all meetings the logged in user has access to. You can filter these meetings by your access rights in the meetings. Alternatively, to see a list of the meetings that you created, click Created by me.
In the meeting list, hover over a meeting row to see and use the access buttons to see meeting details, edit the meetings, or open the meeting room. Hover the pointer on a meeting row and click the relevant icons to see details of a meeting, edit a meeting, or to launch the meeting room. You can sort the meetings by any of the column headings.
Click View the old experience, to revert to the old experience that uses Flash Player.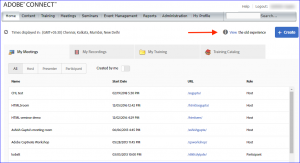 You can find all the recordings owned by you, directly in the My Recordings tab. You can sort the list of recordings, search for recordings, or launch a recording. Use a minimum of three characters in the search field to search through the recording names.