Introducing Ally Alternative Formats

To support our commitment to a more inclusive campus, we're introducing a new feature called Ally into your Blackboard courses. As more of our courses are being facilitated online due to COVID-19, the importance of accessible online content has become imperative. Johns Hopkins University is making Ally available across most of our FA20 courses at the end of September to support students in engaging with digital content as well as to support faculty in providing accessible content.
Ally will provide support to your students by allowing them to download your course files in different formats, like a MP3 or mobile-friendly version. Next to your course files, students will find an icon for a dropdown menu. They can then simply select the dropdown icon and then select "Alternative Formats":


From there students will see a menu of options from which to choose. Download speed will depend on the size file.
Depending on the type of document, students may find some or all of the options below available:
An OCRed PDF which is used to improve the text of scanned documents
A Tagged PDF with improved navigation, especially for students using a screen reader
An HTML version that will allow students to adjust text for your mobile devices
An ePub version for use an eReader or tablet
An audio version for listening to an MP3 on a computer or mobile device
BeeLine Reader, which makes reading easier and faster by using color gradients
A translated version that translates content into over 50 different languages
Learn more about Alternative Formats, their benefits to students, and how to access them at Alternative Formats for Students.
We hope you will encourage your students to take advantage of the Alternative Formats being made available in their Fall 2020 courses to support their learning.  If you have questions, you can contact us at blackboard@jhu.edu.
Frequently Asked Questions:
As we encounter questions, we will start gathering the answers in an FAQ section.   
Why do some Alternative Formats give me "We're sorry. We were unable to generate the alternative format."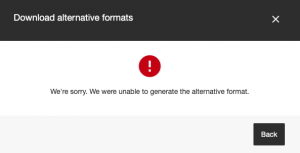 There are currently some limitations to the conversion:
Some PDF files are not able to be processed correctly
Audio formats fail, if the original document contains more than 100,000 characters.
What content is checked by Ally?
Currently, Ally checks files in these formats:
PDF files
Microsoft® Word files
Microsoft® PowerPoint® files
OpenOffice/LibreOffice files
Uploaded HTML files
Image files (JPG, JPEG, GIF, PNG, BPM, TIFF)
WYSIWYG/VTBE content
YouTubeTM videos embedded in WYSIWYG/VTBE content
In Blackboard, Ally also checks these content types created through the system content WYSIWYG editor:
Blackboard Learn

Content Folder (

application/x-folder

)
Content Item (

application/x-item

)
Learning Module (

application/x-learning-module

)
Lesson Plan (

application/x-lesson

)
A link to a Forum (

application/x-link-discussion-topic

)
Web Link (

application/x-link-web

)
Embedded LTI application (

application/x-lti-launch

)
All other WYSIWYG content types including Blank page and Module page (

application/x-page

)
For an up-to-date list, see https://help.blackboard.com/Ally/Ally_for_LMS/Administrator/Institution_Report/Accessibility_Checklist
What about E-reserves?
Ally currently won't be able to get to electronic reserves (e.g., Ares) content. In the future, Ally as a Service could be used to access repositories outside the LMS.
Can the Ally options be turned off by item?
Yes. An instructor can turn off alternative formats for individual content items, if you want. You can enable it again later.
What is Instructor Feedback for Rich Text Editor content?
The Rich Text Editor (RTE) instructor feedback will give course editors a live accessibility score on their RTE content and guidance on how to fix issues. (Enabled in Production Blackboard on January 20, 2022).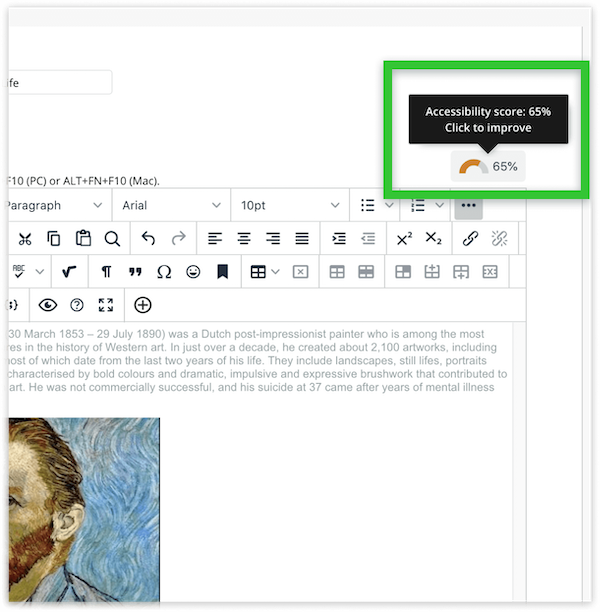 See https://help.blackboard.com/Ally/Ally_for_LMS/Instructor/WYSIWYG