MSIE 11 will no longer be supported by JHU.  Microsoft ended active development for Internet Explorer in January 2016.  Over time, we have found more features of Learn no longer work properly with IE11 and Blackboard will not resolve issues specific to IE11. We recommend an alternate browser, e.g. Chrome, Edge, Firefox.
Issue:
When using Internet Explorer 11, you find that browser is prompting you with a Windows Security dialog to re-authenticate in blackboard.jhu.edu.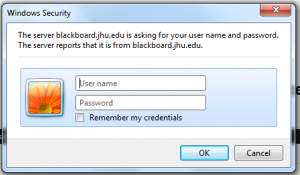 One Solution:
Add 'https://blackboard.jhu.edu' to the list of Trusted sites.
Select the gear in the upper-right corner of the screen, then select "Internet Options". If you have the Menu Bar enabled, you can select "Tools" > "Internet Options".
On the Internet Options dialog, click on the "Security" tab
Click on "Trusted sites" zone
Then click on the "Sites" button

In the "Add this website to the zone:" field, enter: https://blackboard.jhu.edu
and then click on the "Add" button

The Websites: section should now include https://blackboard.jhu.edu

Click on the "Close" button to close the Trusted sites dialog.
Click on the "OK" button to close the Internet Options dialog.
Quit out of browser, and re-launch