Blackboard continues their commitment and investment in the Learn Original Experience (Learn 9.1). The following release highlights were delivered in the Learn 9.1 Q4 2019 release.
Authentication lockout
Too many failed attempts to log in to a user account could be a security risk. In this release, if Blackboard Learn is involved in the authentication process (e.g., Non-JHED Email Accounts), Learn will lock user accounts after 5 failed login attempts.
Open file upload warning for Edge browser users
Due to a known Microsoft Edge issue, some users who access Blackboard Learn through the Microsoft Edge browser have encountered problems attaching and submitting open Microsoft Office files. To help prevent file submission problems, Learn now warns Microsoft Edge users that they should close files before uploading them. The message only displays the first time the user encounters a file upload workflow in a Blackboard Learn session.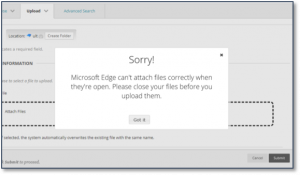 Course availability controls in more places
We first introduced a course availability indicator and toggle control for Blackboard Learn Original courses with the 9.1 Q4 2017 release. In 9.1 Q4 2019, the indicator and toggle now appears in additional tools and management pages, including the Discussion Board.
When an instructor, teaching assistant, or other entitled user has the privileges to edit course availability settings, they can select the padlock icon to toggle availability. If availability date settings need adjustment, the padlock icon will take the user to the Settings Management page.
Needs Grading

 filter selection is remembered

With this release, Blackboard Learn will remember instructors' preferences for the Show attempts that don't contribute to user's grade filter on the Needs Grading page. By default, the checkbox is unselected and student attempts that don't affect grades won't show on the Needs Grading list. When an instructor changes the setting, Learn will remember the preference across that user's sessions and courses.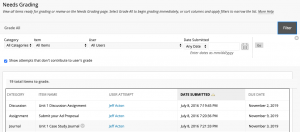 Grade Center improvements on desktop for the Learn 2016 Theme
For the Learn 2016 Theme, we've decreased the cell padding in the Grade Center for desktop users so that more Grade Center data will display.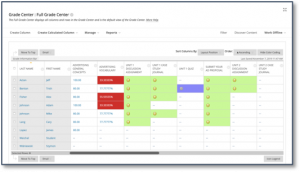 Grade Center improvements on mobile for the Learn 2016 Theme
With this release, instructors can more efficiently manage the Grade Center on their mobile devices. We've made the behavior, display, and actions of the Grade Center's mobile card view more consistent with the grid view.
Usability improvements for the Learn 2016 Theme
We've made several improvements for the Learn 2016 Theme in this release, including:
When configured, course color menus also apply to the pop-out course menu
Contextual menus now display with dividers between sections
LTI Advantage improvements
If a tool implements the grading and submission state handling in the LTI Assignment and Grades service, instructors can see which students have submitted including in the Needs Grading workflow and whether grading has started. Students will have more accurate due and overdue notifications because their submissions will register with Blackboard Learn even if the submission requires grading before a score is sent to the grade book. An integrated tool must implement these capabilities of the standard in order to users to have the improved experience.
In prior releases, tools have been able to request a list of students in a class, if allowed, to create a better experience for users in the tool—this uses the Names and Roles Provisioning Service. In this release, tools can now also request group definition and group membership data through the extension to this service, the Context Membership Service. Tools can then use the existing group data in Learn to create group activities or list filters as appropriate for the tool without requiring instructors to set up their groups again.
Learning Tools Interoperability (LTI) is a standards specification defined and certified by the IMS Global organization. Blackboard participated in the development of the LTI Advantage specification.
Java 11 JDK and Building Blocks
Blackboard Learn 9.1's Q4 2019 release uses a new version of Java, Java 11 JDK. Java are the libraries on which the Learn application runs and also the libraries that power Building Blocks, the add-on tools and features you may use in your environment. We're implementing Java 11 to improve security and performance. Staying on recently updated libraries is crucial to staying ahead of those who may try to compromise your learning environment.
Guest accounts can't be enrolled in courses
Previously, when an unauthenticated user accessed Blackboard Learn and the "Enable Guest" property was enabled they were associated with the "Guest" account. Instructors were able to enroll this "Guest" account in courses and organizations, circumventing application entitlement handling.
This account is a unique Blackboard System Level account that was never intended to be enrolled. Allowing this account to be enrolled meant possible data exposure to unauthenticated users as multiple un-authenticated users could be associated with the account.
Therefore, in this release we removed the ability for the "Guest" account to be enrolled in courses stopping potential data exposure concerns between unauthenticated users. Existing "Guest" account enrollments will remain and be visible to instructors and administrators so they can clean up these existing enrollments through the user interface.
Miscellaneous updates
Course Copy performance has been improved. The time to create copies, exports, and archives are all improved.
Course Copy handling for links has been improved. Previously, if link URLs were manually copied from the details page for a resource in the Content Collection and added to the Content Editor, these links would break on course copy. The Course Copy procedure now attempts to identify common scenarios of bypassing the linking process with a URL cut-and-paste to allow access for users in the new course.
The 360 view for a resource in the Content Collection has been improved to more accurately display the various ways the resource can be used.
Empty searches in Content Collection are now restricted to prevent accidental long-running searches that have negative performance impact.
Numerous libraries have been updated to improve security and performance, including a number of Spring libraries.
Pearson MyLab and Mastering are now supported in Partner Cloud (Content Market).
Accessibility improvements