Under Billing, click the Summary.
Click the Pay By Paper Check link located in the Actions box to navigate to the Paper Check page.
Print the bill that appears in the following window.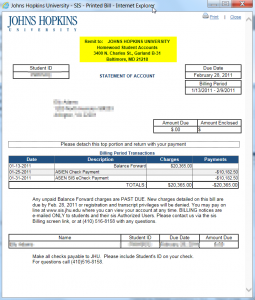 Detach the top portion of the bill and return it with your payment.
Make all checks payable to Johns Hopkins University.  You must include your 6-digit Student ID on the check.
Remit to:
Johns Hopkins University
Homewood Student Accounts
3400 N Charles St.
Garland Hall Suite B31
Baltimore, MD 21218