Zoom provides an excellent FAQ. For more Johns Hopkins-specific questions, see below:
For questions related to student Zoom accounts, see the Zoom FAQ for Students.
Account Management
Q: How do I get a Zoom account?
A: Sign up for an account through the JHU IT Service Catalog! Once your account is provisioned, you'll receive an email with instructions on logging in.
Q: What is the difference between a Basic and a Licensed account?
A: Basic: A Basic user can host meetings with up to 300 participants. As of July 15, 2022, all Basic user meetings are limited to 40 minutes. They cannot utilize user and account add-ons such as large meeting, webinar, or conference room connector.
Licensed: A Licensed (formerly known as Pro) user is a paid account user who can host unlimited meetings on the public cloud. By default, they can host meetings with up to 300 participants and large meeting licenses are available for additional capacity. Pro/Licensed users have these additional features available:
Customize Personal Meeting ID
Record to the Zoom Cloud
Be an alternative host
Assign others to schedule and schedule on behalf of
Utilize account add-ons such as conference room connector
Be assigned user add-ons such as large meeting, webinar, or personal audio conference
Customize Personal Link, if on a business or education account
Q: How do I upgrade my Zoom account from Basic to Licensed?
A: You can upgrade your account to Licensed by going through the account setup process in the JHU IT Service Catalog again, and choosing Licensed as the account type.
Q: How do I downgrade my Zoom account from Licensed to Basic? How do I change my cost center?
A: You can downgrade your Licensed account to Basic or change your cost center in the JHU IT Service Catalog.
Q: How do I cancel my subscription?
A: There are two ways to cancel your subscription. You can downgrade your account from Licensed to Basic, or you can deactivate your account. Either action can be accomplished in the JHU IT Service Catalog.
Q: Are service accounts available?
A: The use of service accounts are considered on a case-by-case basis.
Q: Can my team share a Zoom account?
A: We don't recommend sharing accounts, as it would increase the risk that two groups/users might be trying to run different meetings from the same account simultaneously. We suggest testing out the Join Before Host or Alternative Host features to allow participants to join without you!
The Alternative Host feature requires that both the original host and the alternative host have Licensed Zoom accounts.

Q: Is there a minimum or maximum on how many accounts we can get?
A: Accounts are tied to the user's JHED ID, so each user can only obtain one account.
Q: What's the price structure?
A: You can find account pricing on our product page in ServiceNow.
Q: Who at Johns Hopkins can register for a Licensed Zoom account?
A: Anyone, enterprise-wide, with a valid cost center should be eligible for a Licensed Zoom account! Students will automatically obtain a Licensed Zoom account upon logging in for the first time.
Q: What's the difference between a user, an admin, and an owner?
A: An account owner has no restrictions, an account admin can add, remove, or edit users and manage advanced features like API, SSO, and Meeting Connector. Users, however, have no administrative privileges.
Audio Options
Q: What audio options do I have through Zoom?
A: Please see Audio Options.
Q: Unable to dial into the toll-based Conference lines or getting a busy signal?
A: We recommend using Computer or Device based audio when available, please see Zoom's guide for connecting and testing your device audio in a meeting. If you need to dial-in to a meeting and receive a busy signal, please try an alternative dial-in number. Included below is a list of US toll-based dial-in numbers that you can select from:
Q: How do I add Premium Audio to my Zoom account?
A: For instructions on how to request the Premium Audio feature add-on, please refer to Accessing Premium Audio. You must have a Licensed account to request this add-on.
Q: How can I revoke Premium Audio access from my Zoom account?
A: You can remove Premium Audio by visiting the Zoom Resource Manager page.
Q: Do all meeting participants need to have Premium Audio to access the toll-free numbers?
A: No, only the host needs Premium Audio.
Q: Can Premium Audio be billed to a separate Cost Center/IO?
A: Yes, this add-on does not need to be billed to the same Cost Center/IO used for your Zoom account.
Q: Does Premium Audio need to be enabled for every meeting I host?
A: No, Premium Audio can be configured to be included on a meeting-by-meeting basis. It can also be configured to be included for all future meetings. For more details, refer to the Premium Audio Settings page.
Q: Will Zoom replace our current AT&T conference line?
A: No, Zoom is not a direct replacement for AT&T conference lines. Zoom has replaced Adobe Connect. Zoom does offer VOIP and an integrated toll-based PSTN conference line which could negate the need for an AT&T conference line in many cases.
Q: How do I dial toll free?
A: In addition to Zoom's free global dial-in numbers (toll applies), you can also subscribe to Premium Audio rates for toll-free numbers, premium dial-in numbers for additional countries, call-out numbers, and dedicated dial-in numbers. This feature can be added at additional cost through the IT Service Catalog.
Cloud Recording for Students
Q: How do I grant Cloud Recording access to a TA?
A: Please refer to Granting and Managing Blue Jays Cloud Recording.
Q: Is there a cost for granting Cloud Recording access to a TA/student?
A: No, there is no associated cost.
Q: I can't see my TA/student in the Management Portal. Where is their record?
A: By default, the Zoom Student Cloud Recording Management Portal only displays active and scheduled (future) Cloud Recording access records. If the student's access was manually deactivated or the Access End Date has passed, you'll need to select the Show inactive toggle at the top of the screen.
Desktop Client
Q: How do I install the desktop client?
A: See our desktop client setup guide.
Q: Where can I find Johns Hopkins virtual backgrounds?
A: You can find Johns Hopkins virtual backgrounds on the JHU Facebook page.
Q: I'm getting an error installing the client. It says I don't have administrative privileges.
A: Contact your LAN Admin/Desktop Support team and ask them to install the desktop client package on your computer.
HIPAA
Q: Is Zoom through Johns Hopkins HIPAA-compliant?
A: Yes, we have two HIPAA-compliant instances of Zoom here at JH. Members in a security group that falls under the scope for HIPAA are automatically pushed into a protected instance (known as JHM) to comply with HIPAA guidelines. As of May 25, 2021, users with accounts in the JHUSON instance of Zoom are also included. More on Zoom's HIPAA compliance can be found here.
Q: How do I provision a HIPAA-compliant account?
A: You can provision a JHM HIPAA-compliant Zoom account through the IT Services Catalog, and checking the "Add to HIPAA account" box:

A Greyed-Out Checkbox
If you are inputting a single or multiple users and the box is already checked and greyed out, you will automatically be added to the HIPAA compliant subaccount.

Once your account is provisioned, you'll receive an email with instructions on logging in.
HIPAA Compliance for SON
If you're with the School of Nursing (SON), please contact the
SON Help Desk
.
Q: What features are modified/limited with HIPAA-compliant Zoom accounts?
A: Under the U.S. Health Insurance Portability and Accountability Act of 1996, a HIPAA Business Associate Agreement (BAA) is a contract between a HIPAA covered entity and a HIPAA Business Associate (BA). The contract protects personal health information (PHI) in accordance with HIPAA guidelines. More on Zoom's HIPAA compliance can be found here. The following features have been enacted for accounts residing within one of the HIPAA instances:
Q: How do I know I'm in a HIPAA-compliant instance?
A: The HIPAA-compliant instances, JHM and JHUSON, are denoted by the following URLs for all meetings hosted from these instances:
You can see the URL in your Zoom profile on the web, under the Meeting tab:

You can see the URL when in a meeting via Zoom's desktop client (video off, nothing being shared):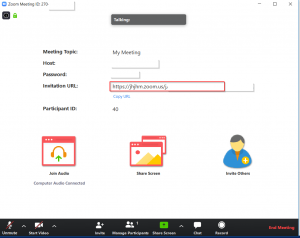 You can see the URL when launching your meeting:

Q: Can Cloud Recording be used for clinical/telemedicine care?
A: No. This is prohibited without written consent from the patient.
Local recording is not supported on iOS or Android.

Hosting
Q: Does enabling Join Before Host allow meeting participants to start without the host actually being present?
A: Meeting participants will be able to talk, but the host is required for many meeting controls, such as screen-sharing and recording. See Join Before Host for more details.
While there are no limitations on how a user can schedule meetings, their back-to-back and concurrent meetings can be disrupted prematurely if they are configured to allow Join Before Host, as the first participant to join the meeting can start the meeting, which would end the pre-existing meeting.

Q: Can I host concurrent meetings?
A: Licensed users can host two meetings at the same time. Both meetings must be started by the original host. More information can be found on Zoom's support page for Concurrent Meetings.
Q: What is an Alternative Host?
A: If you have a Licensed Zoom account, you can designate another Licensed Zoom user as an Alternative Host for your meeting. This will allow the other user to start and host the meeting in your stead.
Q: What is the Scheduling Privilege?
A: If you have a Licensed Zoom account, you can assign another Licensed Zoom user the Scheduling Privilege. This will allow the other user to schedule meetings on your behalf.
Q: Are there any recommended best practices when hosting a meeting?
A: See below for before and during meeting best practices.
Before the Meeting:
Test your Audio and Video
Have the content you intend to share prepared ahead of time
Close applications that have pop ups
During the Meeting:
Mute your microphone if others are presenting/speaking
Use Gallery View for group/team meetings
Share your screen
Share specific applications to control displayed content
Use "New Share" to seamlessly transition between shared applications
Use the Annotation feature to grab and direct attention
When using your Camera:
Position your webcam at eye level or higher – experiment for best angles
Use the gestures and mannerisms that you would typically use in person
Make eye contact – try to look at your webcam as often as possible
Joining a Meeting
Q: Do I need a Licensed account to join meetings?
A: Joining a meeting is free with Zoom. If you're looking to host, we recommend a Licensed account. You can order your Licensed account from the IT Service Catalog or if you're with a school or division of JHU, contact your school/divisional IT team for information on how to obtain an account.
Q: Do users joining a meeting need to download the Zoom client?
A: While we recommend using the desktop client for the best in-meeting experience, it is not required to join a meeting as you can join directly from a browser. Optionally, meeting hosts can choose to make it easier for participants to join from their browser by enabling the "Join from your browser" option on their meeting settings.
Live Transcription
Q: Is Live Transcription free?
A: Yes, if you are using Zoom's provided Live Transcription.
Q: Can Live Transcription be used in Breakout Rooms?
A: No. At this time, Live Transcription is not available for Breakout Rooms.
Q: My transcript has missed speech and/or typos. Can I edit this?
A: Yes. If you save a copy of the transcript, you can edit the .txt file as you please. Each transcript should be reviewed for accuracy as the transcription is 100% AI-based (Artificial Intelligence) with no human transcription whatsoever.
Logging In
Q: Which URL should I use when logging in?
A: Please refer to Faculty and Staff Zoom Support by School/Division for the appropriate Sign In URL based on your school/division.
Q: I received a "WEB" error when trying to log in. What does this mean?
A: If you encountered a "WEB" error when attempting to log in, this could be one of a few things.
You may be using the wrong Sign In URL.
You may not have an account established.
SSO (Single Sign On) is not enabled for your account.
If you are still receiving an error after ensuring you have an account and are signing in using the correct URL, SSO may not be enabled on your account. Please contact zoom@jhu.edu for assistance with activation.

Q: How do I log into the desktop client?
A: Please see Zoom Desktop Client for instructions on logging in.

Q: How do I log into the mobile app?
A: Please see Zoom Mobile Application for instructions on logging in.

Meeting Settings & Controls

Q: If an instructors shares a PowerPoint slide show (which would be full screen), is the zoom toolbar still accessible or would the instructor have to exit out of the slideshow to access the toolbar?
A: The toolbar is always accessible but if you don't set it to always show control bar, it will disappear/hide and you will need to locate again.

Q: When I schedule a meeting it makes an arbitrary meeting name. How do I get it to reflect my customized link?
A: The customized meeting link only applies to your personal meeting room (or PMI).  Here's an article that provides a better explanation of this. If you want to schedule a meeting that uses your PMI, then you can use the personalized meeting link. You may want to review the previous link and also this link for other options when scheduling a meeting.

Meetings & Webinars

Q: Do I need a Zoom account to join a meeting/webinar?
A: No, you are not required to sign in to join the meeting/webinar. You may see a message if you try to sign in to Zoom before joining the meeting. When your Zoom client opens, if you're not connected to the meeting immediately, please select the join meeting option and paste in the meeting ID (the last 9-10 numbers in the meeting URL).

Q: Do all panelists/speakers need the webinar license add-on?
A: No, panelists can be invited to participate in the webinar using only their name and an email address, a Zoom account is not required.

Q: If I assign an alternative host to my webinar, do they need to have the webinar license add-on as well?
A: No, alternative hosts do NOT need to have the webinar license to be assigned. However, they will need to be Licensed user (cannot assign Basic users).

Q: Is it possible to allow a participant (non-panelist or attendee) to speak?
A: Yes, attendees can be promoted to a panelist role or you can simply allow them to talk during the webinar using the 'Manage Participants' tab.

Q: If my webinar is going to run over the scheduled time, will it end automatically?
A: No, your webinar will remain active and in-session until you end it. The time and duration is more for scheduling purposes.

Q: If I need to upgrade to a larger size webinar license (to accommodate more attendees) and I already have a webinar scheduled with confirmed registrations, do I need to cancel and create a new webinar?
A: No, do not cancel the webinar. Please contact zoom@jhu.edu for assistance with upgrading.

Q: Can panelists use the Virtual Background feature?
A: Yes. However, they must have either the desktop client or mobile app installed to select a background.

Q: Can attendees view the names and/or phone numbers of other attendees during the webinar?
A: No, attendees are kept anonymous. However, if they choose to ask a question via the Q&A and do not select "ask anonymously", other attendees will be able to see their name.

Mobile App

Q: How can I access Zoom's mobile app?
A: You can go to the Play Store or the App Store and search for Zoom (the app has a video camera icon). Please log in using the following instructions: https://uis.jhu.edu/zoom/zoom-mobile-application/

Q: How can I edit/delete meetings from my phone?
A: On the bottom of the your mobile app, you'll see a "Meetings" icon – click that… any of the meetings you have created will show up with a "Start" button. Click the meeting, not the Start button, and scroll down, this will give you options like "Add invitees" or "Delete".

Recording

Q: How long will my recordings be saved in the Cloud?
A: Cloud Recordings are automatically deleted after 180 days. You will need to download them locally before they are automatically deleted if you wish to retain a copy. Zoom will send you a reminder email before the deletion occurs.

Q: Can a meeting be recorded without the host?
A: By default, only the host can initiate a Local Recording. If another participant would like to record, the host will need to provide permission to that participant during the meeting. The host will need to join the meeting to give the other participant recording permission, or set the participant up as an Alternative Host. If the host can record to the cloud, then they can also Enable Automatic Cloud Recording for the meeting. For more information, see Recording without the Host.

Q: Can an Alternative Host access the meeting's cloud recording?
A: Only the user who scheduled the meeting will have access to the cloud recording.

Q: How do I change what I see in a recording?
A: You can record the meeting in different layouts including active speaker, gallery view, and shared screen.

Q: How do I edit my recording?
A: Zoom does not have a built-in recording editor.

If all you need to do is edit the start/end time of a cloud recording, Cloud Recording Playback (Set Playback Range) might be sufficient.

Otherwise, Zoom suggests you can use any regular video editor to edit the downloaded .mp4 recording file.  Unfortunately, we cannot provide any specific assistance on editing.

Training

Q: Will there be training and tutorials?
A: Check out our Zoom Help Page for training and tutorials, including a link to the most recent vendor-hosted training for Johns Hopkins. If you don't see what you're looking for, please check out Zoom's help site.

Zoom Apps and Integrations

Q: How do I determine what "subaccount" my Zoom account is part of?
A: Within the Zoom enterprise at Johns Hopkins, there are various different "subaccounts" or instances of Zoom which users fall into. This is dependent on your primary affiliation, division, and if you require a HIPAA-compliant Zoom account. To determine which subaccount your Zoom account is in, follow the below steps:
Login to Zoom at the web, not the desktop client/application.
Navigate to Profile > Meeting > Personal Meeting ID.
Your Personal Meeting ID includes both a numeric ID as well as join link. The subaccount ID is prepended to the join link, before the "zoom.us" portion of the URL (example below).
The below table maps subaccount IDs to their relevant names/abbreviations.