Your cart is a holding area for you to use during the enrollment process.
The classes you add to your cart will stay in your cart even after you log out.
Adding classes to your cart is not the same as registering for a class. When you add a class to your cart, you are not yet enrolled in the class. You must select the class and click the Register button to officially enroll in the class.
NOTE: Based on your division's practices and policies, you may be limited in how many classes you can add to your cart.
To Navigate to the My Cart page:
Select the My Cart link located under Registration. There is also a link to your cart from the Search for Classes Results page.
To Add a Class to Your Cart:
Under Quick Add to Cart, select an Academic Period from the drop box. You are usually only allowed to add classes for the current academic period.
In the next field over, type the ID number or Title of the class. The system will begin to display a list of all the classes that match the information you entered.
Select the class that you want to add from this list.
Click the Add to Cart button.
REMEMBER: Adding the class to your cart DOES NOT REGISTER YOU FOR THE CLASS.

To Register for Classes that are in your Cart:
Under My Cart, click the Select checkbox that appears next to the class that you want to register for. You may select more than one class by clicking the appropriate check boxes.
Click the Register button.
The Enrollment Progress page will appear. Refer to the Enrollment Results section of the Search for Classes page for more information. NOTE: You will only be able to successfully enroll in classes that are marked "open".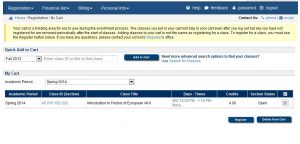 To Delete a Class from your Cart:
Under My Cart, click the Select checkbox that appears next to the class you want to delete from your cart.  You can delete more than one class from your cart by clicking multiple check boxes.
Click the Delete from Cart button.
NOTE: You can filter the classes displayed on the My Cart page by selecting a specific period from the Academic Period drop box.