General Info About Zoom Events
Hub
Conferences & Events
General Info About Zoom Events
General Notes/Suggestions
Zoom events capacity is 500 participants
You can create "Test" Events – which will not appear on your Hub
To manage the event, the user will need to log in to https://events.zoom.us/
Zoom Events meetings and webinars will show up for the host in their list of upcoming meetings and webinars
Helpful Zoom Resources About Zoom Events
Assigning a Zoom Events License
While the Zoom Events provisioning form is in progress, please email zoom@jhu.edu regarding a Zoom Events License.

Please Note:
It's not possible to remove an Events license when a user has a published Event.
A user's Event setup and history will be deleted when the license is removed from their account.
Only the main host needs the Zoom Event License
Users MUST have a Licensed account to add on a Zoom Events License
All attendees must have a Zoom account – this can cause some confusion with attendees – the Zoom email has to match with the email provided from the user during the registration process
Hub
What is a Hub?
A Hub is a collection of upcoming, current, and past events that were created by a group of Hosts… basically, your events directory! Hubs are ideal to separate events related to a specific subject. As a Zoom Events license holder, you can create Hubs.
A Hub is a workspace where your events can be created, published, managed, and shared
You can invite hosts to join a Hub where they can create events
You can invite managers to join a Hub where they can help manage events, users, and settings
You can customize a Hub's visibility setting (public or internal)
You can share a Hub with a shareable link
You can allow attendees to follow a Hub
You can show upcoming and past events on a Hub's public profile page
Hubs can be based by topic/audience – i.e. cardiology hub, oncology hub, pediatrics hub
Create a Hub
Sign in to Zoom Events
In the top-right corner of the page, click Manage
On the left side of the page, click '+'
Enter the name of the Hub
Click Create
Edit a Hub
Go to the "Manage" tab: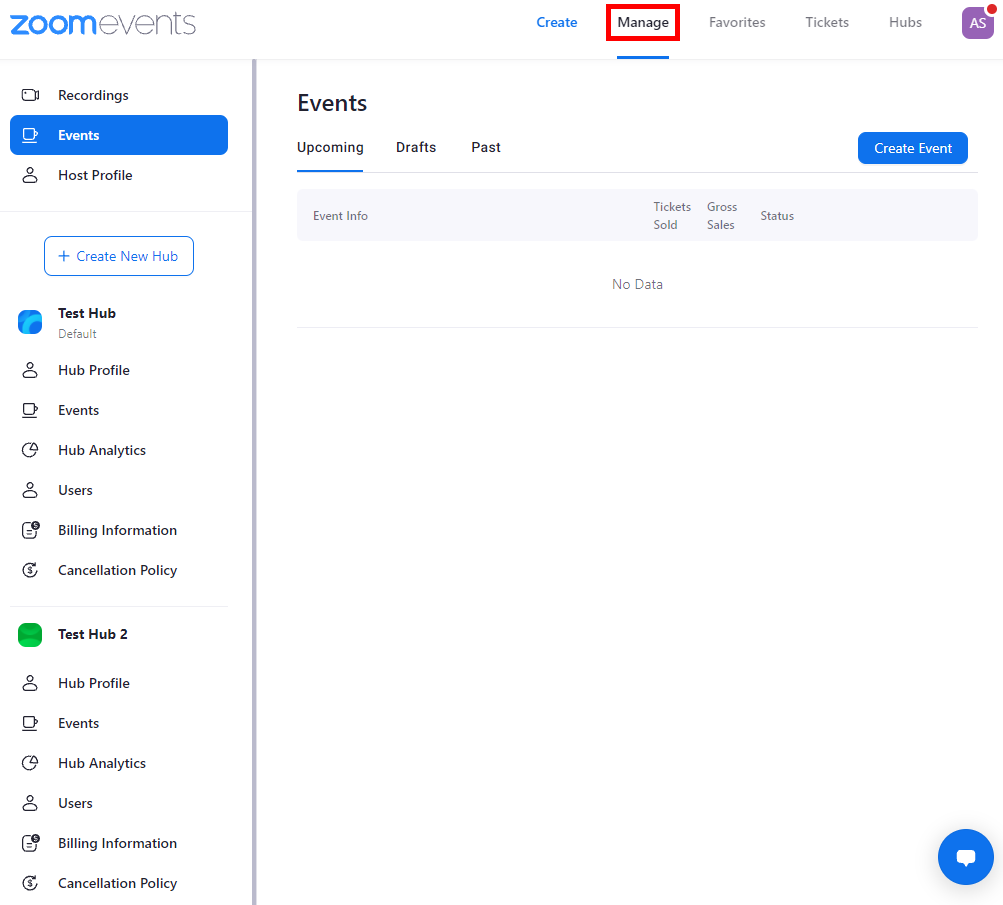 General Notes/Suggestions on Hubs
The host can edit when lobby closes after event
Recordings are available to registered attendees in the lobby while it is open. The Event host will have access to all the cloud recordings to share or download as needed.
Attendees cannot download recordings – host would need to send them out
Hubs can be based by topic/audience, i.e. cardiology Hub, oncology Hub, pediatrics Hub, IT Hub
Lobbies can be open for up to 365 days
Chat is persistent, meaning if I register for the Event a few days after registration opens, I have the ability to review all chat messages in the lobby from the beginning
Conferences & Events
Once you have created a Hub, you can create a Conference or an Event:
When in the Hub, click hover over "Create" to see your event type options:


Please Note:
Don't bother with summit, it will be disappearing because there are feature gaps between the conference and summit.


Conferences: Multi-track sessions across multiple day
Events: Single session meeting or webinar, basically same thing as a webinar
General Notes/Suggestions on Conferences & Events
General
Conference sessions can be meetings AND webinars
Conference is most complete – summit will roll up into conference (which is why we're not listing it as an option)
Conferences can only last 5 days
Recording
Recordings are only available while the lobby's open
Attendees cannot download recordings – host would need to send them out
Registration
There are custom registration options (user information and custom questions)
Registration works similarly as webinars
Can pre-populate questions for that session
Can edit when lobby closes after event
Lobbies can only be open for 365 days
Ticketing
Special Role tickets take away from the total number – so your alternative host, and speakers count as tickets – i.e. if you have 5 alternative hosts and 5 speakers, you'll only have 490 tickets available for your attendees.
Can separate tix into General admission and VIP (using guest lists)
Conferences
Zoom Event Conference Articles:
Roles:
Co-Editor:

Co-editors can make changes to the event details. Co-editors cannot add or remove other co-editors. Co-editors will not be provided with their own tickets to the event but they can add their email as an alternate host, panelists, etc.
Will not see Zoom Events Webinars/Meetings on their profile
Being added as a co-editor doesn't give you a speaker privilege – just allows editing, setup and management of the actual event
Does not need an events License – can be internal or external
Similar to your delegated scheduler

Alternative Host:

Alternative Hosts for sessions can start the session associated to them on the Host's behalf; an Alternative Host ticket will be auto-assigned to Alternative Hosts.
Same rules as alternative host has currently: https://uis.jhu.edu/2021/07/15/new-feature-alternative-hosting-and-designated-scheduling-across-the-enterprise
Needs a ticket
Don't need an events license

Speakers:

All need tickets (which are auto-generated)
Basically, same idea as a panelist
Primary Speaker for a session will have host capabilities
Conference Scheduling:

Agendas have to be in CSV format
If you already have an agenda uploaded and realize there's a mistake you can export the current CSV, change the CSV, and re-upload the CSV, OR you can edit each event to make any changes
Zoom suggests uploading the sample CSV and making edits on the GUI
General Notes/Suggestions on Conferences:
"Conferences" support Events up to 5 days long and up to 13 concurrent sessions (meetings or webinars). This provides the broadest capabilities and is recommended as the event type.
Build up speaker list THEN add agenda, easier to delete than add when building out an agenda
Conferences can only last 5 days
Co-editors can't join until they have a ticket.
Can't join an event until it's published and the lobby is open
Alt hosts/ primary speaker manage sessions
You can have a co-editor be anyone with a Zoom account
There's no limit to the number of tracks a conference can hold (tested with 15 tracks)
There's no limit to the number of meetings/webinars a conference can hold
Events
Zoom Event Event Articles:
Multiple Webinars treated as one event
General Notes/Suggestions on Events:
Events – more of a one off-repetitive event
Pure one-off event… stick with webinar (less work)
Frequently Asked Questions
Q: How is the Zoom Events max capacity determined for Meetings and Webinars?
A: Capacity is determined as follows:
The Meeting capacity is determined by the users' Zoom Meetings license capacity (300, 500 & 1,000)
The Webinar capacity is determined by the users' Zoom Events license capacity (1,000, 3,000,)
Q: What version of the Zoom client is needed for Zoom Events?
A:Version v5.7.6 or higher is required to use Zoom Events.Please make sure you're using the latest version of the Zoom client available.
Q: What is the max number of Speakers you can list with Headshots/Bios?
A: 100 Speakers
Q: What Zoom email is used to send out emails for Zoom Events?
A: Emails are sent from noreply-zoomevents@zoom.us
Q: Can a Zoom Events host assign themselves as a speaker?
A: Not directly, they will need to add themselves as the speaker by using a pseudo email. This will allow them to be featured as a speaker for the session. The host will not receive the speaker ticket, which technically is not needed since they have Host access to the event.
Q: Why is the event lobby blank/empty when users join?
A: Remove any apostrophes from the event name
Q: Why is there a Default Hub?
A: The default hub is created as the first hub in every account.
This allows Zoom Events license users a place to post events and end users (attendees) to have a place to land when they login
Every event license holder (for an account) is added as hub owner to this default hub
Event license holders can create their own hubs
The default hub is just the first hub for an account and cannot be deleted
Q: Are Attendee Reports Available for Zoom Events too?
A: Reports are available after the session and are largely like webinar reports separate for each session within the event.
You can see join and leave but if they didn't opt-in then emails are masked
Each session shows up as a separate meeting/webinar within reports/dashboards
Q: Can you pre-register participants?
A: No, all attendees must register themselves
Q: Can an event session have more registrants than the Zoom Events capacity purchased?
A: No, the total number of tickets you can sell is based on the capacity of the license you purchased
Q: Which payment method options are available?
A: PayPal, Stripe, Non-profit, or free are options for the tickets
There is not a way to use other 3rd parties today
Q: Does Zoom Events require attendees to have a Zoom account?
A: Yes, attendees will need a Zoom account to register and attend events. All that is needed is a [free] Basic Meetings accounts
Q: Do events have a meeting ID and or passcode?
A: No, Zoom Events do not share a meeting ID or passcode. Ticketing is tied to their Zoom account and generates a unique link for each ticket
Q: Does everyone joining the event need to log into their Zoom account?
A: Yes, Zoom Events link is generated uniquely for each Zoom account (email)
To join an event the user must be logged into Zoom with the same account they used to register for the event
Users can see all their Event tickets via the Zoom Events portal