Background
In recent times, there have been numerous reported cases of "Zoombombing" during class sessions and other online meetings. "Zoombombing" refers to an uninvited guest or guests gaining access to a session, in which they typically share racist, misogynistic, and/or vulgar content via Zoom's in-meeting features such as screen sharing and chat. To help prevent these scenarios, please refer to the settings and in-meeting host controls listed below to further secure your online sessions.
Desktop Client and Release Notes

To access and utilize the newest settings and security features provided by Zoom, it is important to have the latest version of their desktop client. Additionally, please take the time to review Zoom's release notes as they contain important updates, setting changes, and other feature/enhancement announcements.

Checking your Desktop Client's Version
Open your Zoom desktop client.
Click on your profile picture (or initials if you do not have a profile picture set).
Select Check for Updates.

If your desktop client is up-to-date, no further action is needed. If you client is out-of-date, you will be able to download and install the most recent version from here. You can also view the most recent release notes by clicking on the Release Notes hyperlink.

The latest Zoom desktop client can also be downloaded by visiting the Zoom Download Center.

Please Note: If you are unable to download and install the update due to the lack of administrative privileges on your machine, please contact your LAN Administrator or Desktop Support team.
Release Notes
Zoom's most recent release notes can be viewed by visiting their Release Notes page.
In-Session Security Options
The new security icon found in your meeting controls allows both the host and co-host to enable and disable features during the meeting to further secure it and minimize potential disruption. While most of these features can be controlled from your user settings (which applies to all meetings by default), the security icon combines them all in one place for easy access during your online sessions.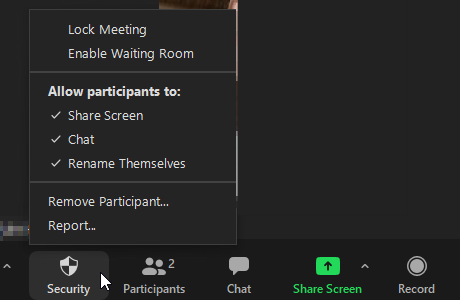 Lock Meeting
What does it do?

This feature allows the host and co-host to prevent anyone else from joining the meeting, even if they have the meeting ID and password.

How do you set it up?

Simply click the Lock Meeting button and new participants will not be able to join your meeting. To unlock, click Lock Meeting again. You can also refer to Zoom's support page for In-Meeting Security Options (Zoom Desktop Client 4.6.10 or later)

How secure is it?

New participants will not be able to join the meeting.

JHU's Recommendation

Lock Meeting: This feature is ideal for meetings where the host wants to prevent interruptions or where sensitive information may be shared.
Waiting Room
What does it do?

The Waiting Room feature allows the host to control when a participant joins the meeting. As the meeting host, you can admit attendees one by one or hold all attendees in the waiting room and admit them all at once. When this feature is enabled, you will have a "Waiting Room" section under your participants list. From there, you can admit the participants into your meeting.

How do you set it up?

First, you will need to click Enable Waiting Room to activate it.
Once selected, you will have to manage the Waiting Room throughout the duration of the meeting in case of late comers or drops needing re-entry.You can find the Waiting Room under the participant list.
Please refer to Zoom's support page for Waiting Room.

How secure is it?

The Waiting Room feature does give more control to the host as it allows them to decide who to admit into the session.

JHU's Recommendation

If you use Waiting Room, screen your attendees.
Remove Participant
With the Remove Participant feature, the host or co-host can dismiss a participant from the meeting. The user(s) removed will not be able to rejoin unless you have the "Allow removed participants to rejoin" setting enabled. Once you select "Remove Participant…", a red Remove button will be displayed next to each participant in the list. Click this button to dismiss that particular attendee.
Report a Participant
As part of Zoom's new in-meeting security features, the host and/or co-host can now report a particular participant during a meeting. The meeting host/co-host will be able to select which participants they'd like to report, including any written details on why they are being reported, as well as any applicable attachments. The report will then be sent to the Zoom Trust and Safety team to evaluate any misuse of the platform and block the user if deemed necessary.
During your session, click the Security icon in the meeting controls bar.
Select Report… from the available options.
You will then be prompted with the Report Form where you will include the name of the participant, the problem you were facing, and any additional comments and information. You can also include attachments and a screenshot of your desktop.
Click Send when you have finished completing the report.


Please refer to Zoom's support page for Reporting Participants for more information on this feature.

Allow participants to (when selected):

Share Screen – Allows your participants to share their computer screens.
Chat – Allows your participants to use the built-in chat window.
Rename Themselves – Allows your participants to rename themselves from the Participants panel.

For a

video tutorial

of the new in-meeting security icon features or for additional information on this enhancement, please refer to Zoom's support page for

In-Meeting Security Options

Other Host Controls during a Meeting

These settings are configured via the Host and Co-Host controls during a meeting.

Mute All and Unmute All

Screen Sharing – Who can Share?

Meeting Settings

These settings are typically configured during the creation of a meeting creation or under your user settings.

Meeting Password:

Join Before Host vs Waiting Room

Mute Participants Upon Entry

Screen Sharing – Who can Share?