We are happy to announce that preferred pronouns are now available within Zoom! Once users have set their preferred pronouns in myJH, they will automatically become visible on their Zoom profile within 24 hours. See below for steps on setting up your preferred pronouns.
Please Note:
Automatic transfer of preferred pronouns from myJH to Zoom is only available for Zoom accounts where Single Sign On (SSO) is being used for authentication. For Zoom accounts not utilizing SSO, pronouns must be manually configured in Zoom. Please refer to
Zoom Support by School/Division
for the appropriate support contact.
Setting your Pronouns in myJH
Login to myJH
Click your JHED ID in the top right corner and select myProfile.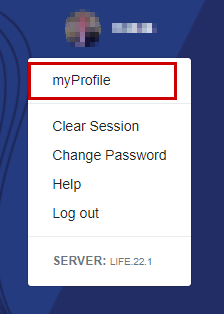 Under the myProfile tab, scroll down to Pronouns.
Select your pronouns and desired visibility using the drop-down menus.
Click Save myProfile at the bottom of the screen once you are finished.
To remove your pronouns, repeat steps 4 and 5.
Please Note: It may take up to 24 hours for your pronouns to populate on your Zoom profile.

Zoom Pronoun Settings
Login into Zoom at the web.
Under your Profile page, click the Edit button to the right of your pronouns and name.
Under the How would you like to share your pronouns? menu, select your preferred pronoun visibility in Zoom.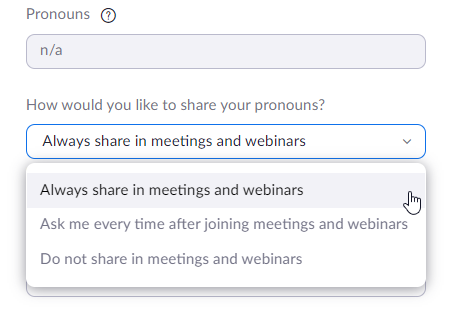 Click Save at the bottom of the screen once you are completed.
Need Help?
If your preferred pronouns are not displaying after your name during a meeting, please ensure your Zoom Desktop Client is on version 5.7.0 or higher. Pronouns will not display on versions prior to 5.7.0. Refer to Zoom Desktop Client and Release Notes for steps on updating your client.
Visit Adding and Sharing your Pronouns for Zoom-specific support regarding pronouns.
For any other support needs, please refer to Zoom Support by School/Division.